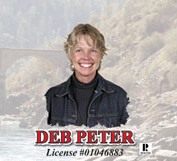 As a Full-time Realtor since 1995, I have earned Achievement Awards in both El Dorado and Placer Counties. I am passionate and expert at selling Country properties. And am well acquainted with the added steps we often encounter.
I am originally from Orinda, Ca. Later attended Cal Poly SLO. Before relocating to the Sacramento Foothills, I owned/managed a small Horse Boarding business. A strong desire to pursue Endurance Horseback Riding and continue Running on some of the most beautiful Trails, led me to the Georgetown Divide.
Communities I routinely work in: Auburn & vicinity, Coloma, Cool, Garden Valley, Georgetown, Greenwood, Placerville & vicinity.
Motto: "Live Where You Play"
Website: https://www.premierfoothillproperties.com
Affiliations:
Certified Residential Specialist
El Dorado Equestrian Trails Foundation
Sutter Auburn Faith Hospice
American River Conservancy
Interests: (Anything Outdoors)
Running/Hiking preferably on Trails
Being Outdoors
Travel when possible
Sacramento Speakers Series
"Along the Divide Trail … Horseback Riding, Running & Cycling" (The Town Crier)
Deb Peter Testimonials
"You held my hand through every phase of our transaction together and you were completely professional and trustworthy. I feel like I not only got to know an extremely reliable agent, but also made a wonderful friend. Thanks for all you did Deb. You are wonderful and greatly appreciated". – Julia
"We can't thank Deb Peter enough for her commitment to us. She definitely went the extra mile to make our buying experience a pleasure with the least amount of stress and worry. We not only had a great REALTOR® , but we made a friend. We consider ourselves blessed" – Alan and Delayne
"Deb Peter was always there for us. When our spirits were down she lifted us up. She was always a step ahead of us and took care of many things we never thought about. We want to thank her for all that she did and for the wonderful dinner gift. She became more than a REALTOR®-she is now a close friend." –Michael and Mary Ann
"You are a true professional that went way above and beyond to make my new home dreams come true. I truly do not know what I would have done without your expertise, guidance and above all your support, patience and understanding. You are not only a wonderful REALTOR® , but a great friend, listener and counselor who got me through a most difficult time and decisions. Thank you so much!" –Rho